The musical extravaganza Enchanted was notable for many things—bringing an animated Disney princess to life; launching the film career of Amy Adams; the original songs by Alan Menken and Stephen Schwartz; and, of course, the many self-referential gags aimed at Disney feature-animation history, going all the way back to Snow White And The Seven Dwarfs . The now-defunct official Disney blog Oh My Disney once counted 57 references to past Disney projects, from the iconic storybook opening to voice-actor cameos to the camera work in the climactic ball scene. According to director Adam Shankman, the sequel Disenchanted incorporates even more nods for eagle-eyed fans to spot.
"It is the fundamental construct, theoretically," Shankman said at a press conference ahead of the new film's release. " Enchanted is the sending up of all of the tropes. And it's one of my favorite things about the movie and about participating in it because, to my knowledge, it's the first time Disney ever winked at itself."
Disney fans can debate whether that's actually true, what constitutes "sending up," and whether it had happened prior to 2007, but the fact is that Enchanted lives in the space between respectful homage and winking parody, without leaning too hard into either. The same could be said for the sequel. In Disenchanted , Giselle (Adams) and her husband Robert (Patrick Dempsey, also reprising his role) move with his daughter Morgan (new cast member Gabby Baldacchino) from Manhattan to a suburb called Monroeville. Finding the adjustment difficult, Giselle uses a magic wand to wish for a fairytale life, and she gets her wish. The town transforms into a quaint village straight out of a Disney movie, but Giselle doesn't account for her own role in the story. As Morgan's stepmother, she unwittingly sets herself up as the villain of the piece.
Some of the references may not be obvious at first, like the background signs in the town once the spell is cast, but others will be more obvious to Disney fans. "There is a not-so-subtle nod in Gabby's solo song," Shankman says. "Actually, there's many. Every shot in that song is something that's a nod to another 'I want' song. … Pip turns into Lucifer [Lady Tremaine's cat in Cinderella ], Amy turns into many Disney villains. You know, the Magic Mirror is a replica of the magic mirror from Snow White . So, it is floor-to-ceiling. They're everywhere you look. You could swing a cat, you're gonna hit a trope."
G/O Media may get a commission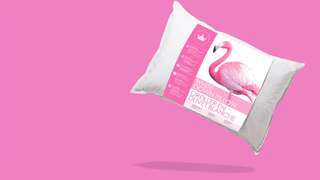 30% off
Canadian Down & Feather Company – 30% Off Sitewide
Crisp & cozy Shop ethically made duvets and pillows made of down, feather, and down-alternative.
Every department reportedly had an opportunity to recreate something familiar or iconic for the film, including costumes, props, and set decoration. Composer Alan Menken even wove in musical cues from his own work, as well as motifs from classic Disney films.
Besides the ones mentioned above, here are some of the other Easter eggs we caught in the film, though we're sure there are others we missed:
Like Enchanted , the film opens with an animated storybook, an homage to the beginnings of several classic Disney films.
When the family arrives in Monroeville, we catch a glimpse of three gardeners dressed in the colors of Flora, Fauna, and Merriweather from Sleeping Beauty . Later on in the film, they actually become fairies and babysitters for Giselle and Robert's daughter Sophia.
Enchanted had a few cameos by voice actors like Jodi Benson (Ariel in The Little Mermaid) and Judy Kuhn ( Pocahontas ). For the cameos in Disenchanted , the team turned their attention to Broadway. On the train ride into the city, Robert is joined by James Monroe Igleheart, who originated the role of Genie in Aladdin on Broadway, and Ann Harada, who played one of the stepsisters in Rodgers and Hammerstein's Cinderella . Both get a chance to sing in a later scene.
After the spell is cast, Morgan sweeps the floor with one of the brooms from Fantasia.
Some of the Disney-related shops in town include Beauty And The Book, A Whole Food World, Lumiere's Candle Works, and Bibbidi Bobbidi Butchers.
During the song "Badder," Amy Adams and Maya Rudolph sing about which one of them is more villainous. The Easter eggs fly by quickly, but you may be able to spot references to Disney's most famous villains, like poison apples and the Beast's cursed rose.
Morgan's transformation scene in Andalasia is animated exactly like Cinderella's in "Bibbidi Bobbidi Boo."
The ball gowns worn in the film by Yvette Nicole Brown and Jayma Mays are exact replicas of the outfits Cinderella's stepsisters Anastasia and Drizella wear to the ball.
Disenchanted continues hiding Disney Easter eggs in plain sight have 994 words, post on www.avclub.com at November 19, 2022. This is cached page on Konitono.Blog. If you want remove this page, please contact us.